Have you hit a wall with your training? Are you feeling like it doesn't matter how hard you go in the gym, you just aren't obtaining your weight goals? It might be time to tune up your nutrition!
At Riv Athletics we offer one-on-one, customized nutrition counseling at an affordable monthly rate that supports long-term results. We will help you learn how to adopt a new relationship with food by establishing healthy, performance driven eating habits that will improve your life inside and outside of the gym.  Just like fitness, the approach to your nutrition needs is not a one-size-fits-all solution. As such, our nutrition coaching will be tailored to your individual goals by working closely with our passionate and experienced staff.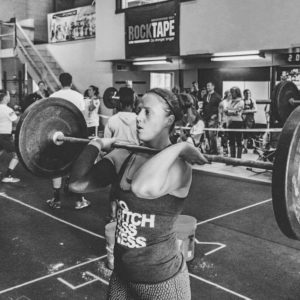 Meet our Director of Nutrition: Chelsea Smith
Chelsea earned a Bachelors Degree in Dietetics from the University of Delaware in 2008. As a CFL1 CrossFit Coach since March 2016 and as a former two-sport athlete, Chelsea's approach to nutrition is rooted in both research and personal experience.
A quick note from Chelsea…
I am a firm believer in the 80/20 rule in life: 80% nutrition and 20% hard work, and I can speak from experience about my own weight loss journey! A few years ago, I was frustrated with my weight.  Despite exercising 5 or 6 days a week, my goals were not being reach and I hit a fitness plateau.  The missing link was my nutrition.  No matter how hard you try you can not out-exercise bad eating habits.  Does this sound familiar?!  
If you are interested in taking advantage of our Nutrition Coaching, please contact Coach Chelsea at chelsea@rivathletics.com. We look forward to working with you!